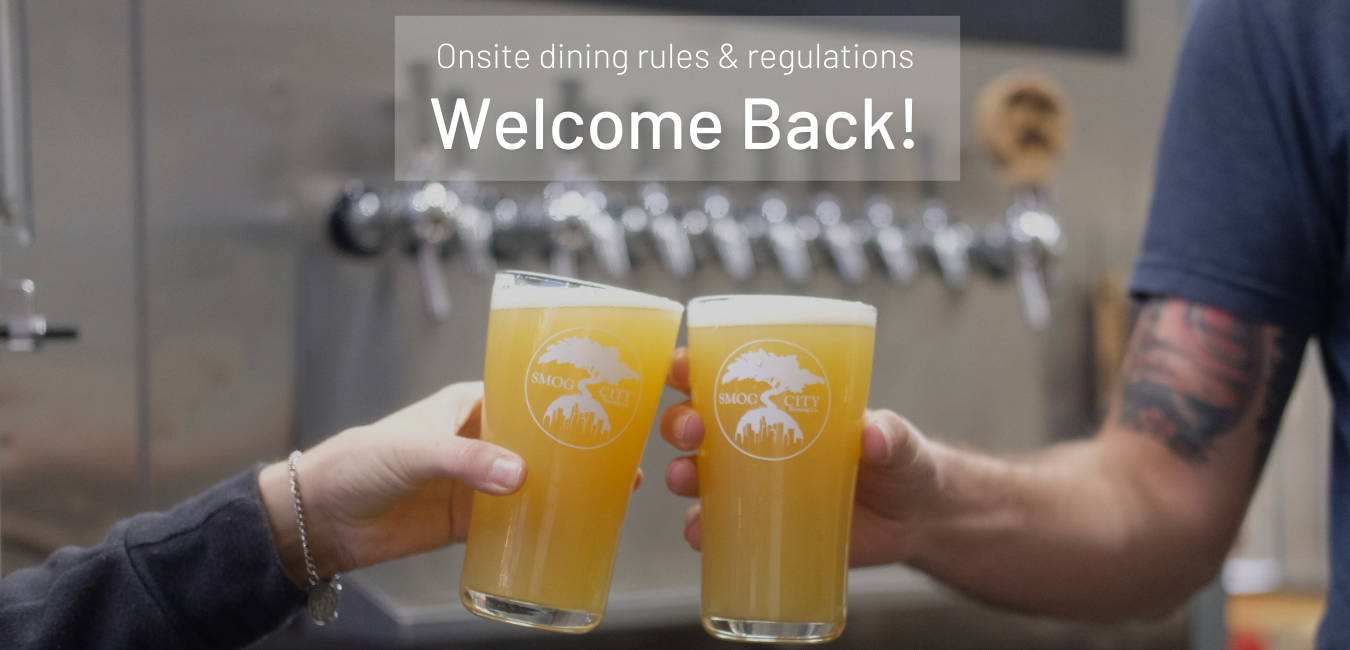 Food Trucks at the Torrance Brewery & Taproom
All 4 of our taprooms are OPEN for onsite dining with seating options inside and outside.
Please read the rules & regulations below carefully and thank for your cooperation.

Welcome Back!
Masks ARE required for all guests regardless of vaccination status. Masks must be worn when indoors and not seated at a table.

Per LA Country Health Department, guests who are not fully vaccinated are required to wear a mask when indoors and not seated at a table. We ask that all guests self-comply with this rule.

Limited bar seating has returned at the Torrance Brewery & Taproom, Smog City West, & Smog City @ Glendora Public Market.

You no longer have to have a seat in order to get a beer and you can mingle with other tables/walk around with your beer. Tables will be first come, first serve.

There is no limit on party size.

At this time, all of our staff will continue to wear masks when working per regulations and for the comfort of our guests & staff.

No outside food is allowed at the Torrance Brewery & Taproom any time we have a food vendor onsite. You can see our current food vendor schedule above.

Credit cards only at this time. No cash. Sorry!

Kids are still welcome, but they must be able to stay at your table for the duration of your visit and follow all rules, including wearing a mask when not seated if they are over the age of two.

Dogs are still welcome at all locations as well and don't have to wear a mask, but they do have to be on a leash and at your table the whole time.

Providing a great and safe experience for our customers is our #1 priority and we are working hard to provide just that! We couldn't be more exited to welcome you back to Smog City.