Smog City Brewing Co. Jobs
Join our hard working, beer loving, community minded team!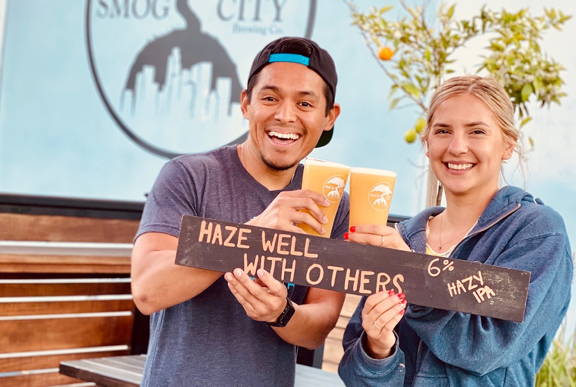 Take a look at our open positions and if the role seems like a good fit, apply away! We are looking forward to meeting our next potential teammates.
Each job listing includes info on how to apply. Please read them carefully.
Retail Coordinator (part-time)- Torrance Brewery & Taproom (Torrance, CA)
Smog City Brewing Co. is a family owned & operated independent brewery in Torrance, CA that makes a wide selection of beer with a focus on quality and creativity. We have 4 taprooms located throughout Los Angeles, shipping & delivery business, plus a growing distribution network and we're looking for the right person to help us keep it all running smooth & looking good!
In this brand new position, you'd be assisting our Brand and Retail director in marketing/outreach efforts as well as helping with business operations. Despite our growth, we are a small company and each of us wears many hats, so this is a unique role that combines business operations with creative marketing efforts. The Retail Coordinator position is a great opportunity for someone that is looking to learn the ropes of managing & growing a brewery/taproom business while flexing your creative muscles. There is tons of room for growth in this role for a highly organized, creative self-starter!
Some of the cool stuff you'd be doing
E-Commerce management: Manage our online store, ensuring all new products are added and inventory is kept up to date, ensuring all orders get filled and organized correctly, and ship out all online orders for beer and merchandise
Coordinate home delivery orders Wednesday - Friday
Keep up to date on the latest e-commerce platform features and suggest ways to optimize the layout/organization of products to increase sales
Website management: Make changes to the website as needed to update hours of operation, promos, changes to operations, and maximize effectiveness of the site
Keep online business info platforms up to date, such as Yelp, Instagram, Google My Business, and Facebook

Content generation for social media and our newsletter:

Write copy & suggest stories/posts to the brand and retail director, gather info on new beers from the production team, take photos and videos of new products, fun brewery shots, etc.
Post content to platforms like Yelp and Google My Business to broaden our reach
Payroll/tip management: Organize tip info daily for beertenders, ensure all info our bookkeeper needs to closeout payroll is received on time each week, help keep our payroll/employee system up to date
Marketing support: Create taproom posters, sales support posters, signs, and other needed print based assets & create graphics for social media
Brainstorm fun and creative ways to market our beer and reach new customers
Help organize brand assets and assist in updating/creating brand standards
Event support & Community Outreach: Once events are allowed again, assist in the creation & coordination of onsite events (creating event plans, working with vendors, etc.), maintain a list of influencers and media contacts and help send out beer care packages as needed to promote new products & help coordinate our 1% for Planet efforts, providing outreach to non-profit partners and tracking contributions
Customer service liaison: Manage our info@ email account, responding to customers is a timely, friendly and professional manner to resolve any issues, fulfill all sticker/label requests and other customer service requests that come in, checks voicemail, respond and distribute messages as needed
Source new ideas for merchandise, working with vendors to get mock-ups, quotes, and place re-orders
Inventory ordering support: Monitor inventory levels of merchandise and taproom/office supplies and let Brand and Retail Director know when we need to order items. Assist in ordering/picking up products as needed.
Business operations support: Help with various office duties like paperwork, filing, and organization
Assist the Taproom Leads on updating Square and Untappd as needed
Aid in broad company health and culture: Manage employee birthdays and anniversary calendar and help facilitate recognition items for those event, Assist in team building event execution, & help in top customer recognition programs
Experience required/The stuff we need you to know
3 years of marketing and or/business coordination experience, preferably in a hospitality setting or a food/beverage company, required
College degree preferred
Extreme organizational skills required. You must love making lists, working in spreadsheets, and live and die by your Google Drive!
Good eye for photography required. You don't have to be an expert, but willing and excited to learn and try out new techniques.
Great written and verbal communication skills required. You must be comfortable reaching out to strangers to make connections and talking to customers (happy and not so happy ones)
Proactive, self-starter needed. This role requires someone who doesn't need to be micromanaged and is a solutions oriented person that isn't afraid to make suggestions to improvements and to speak up when they have ideas.
A fun, positive attitude and someone that is excited to learn is required. We are all about quality, community, and respect at Smog City and are looking for team members that embody these values in everything they do!
Ability to handle confidential and sensitive information with respect and care required.
Advanced graphic design experience/knowledge preferred, ability to create basic designs required.
Basic web design/HTML skills preferred
Shopify & Square experience preferred
Event coordination experience preferred
Passion for craft beer and growing a career in the independent brewing industry preferred
Experience generating reports, managing data and sales information preferred
This position will be based at the Torrance Brewery & Taproom, travel to the other locations will be required from time to time
Minimum physical requirements
Ability to sit for long periods of time in an office
Must be in good physical condition and able to maneuver in tight/confined spaces. Must be able to walk, sit, stand, crouch, climb, balance, talk, hear, taste, smell and see for extended periods of time. Must be able to lift at least 50 lbs. and maneuver at least 165 lb kegs.
Must be able to work outdoors in various weather conditions including cold, heat, rain, and wind
Must be able to drive a vehicle
How to put your hat in the ring:
To apply, please send your resume and cover letter, including a statement about why you want to be a part of the Smog City Brewing Co. team to: ilovebeer@smogcitybrewing.com. Please include "Retail Coordinator" in the subject line. Incomplete applications will not be accepted.
Packaging Tech- Torrance Brewery & Taproom (Torrance, CA)
A Smog City Packaging Tech's main role is to package beer. They have good attention to detail and ability to work in a clean, organized and efficient way to accomplish assigned tasks. They live and breathe Smog City Brewing's core values of quality, community and respect.

Primary Responsibilities
Keg Washing. Lots of it.

Wash kegs using a keg washer. Keep equipment clean and keg area orderly.

Package and rack beer into kegs




Rack finished beer into kegs




Assist in operation of packaging lines and perform pack off duties.

Assist in all pre- and post-packaging operations including case building, labeling, package filling and palletizing.

Receive raw materials and packaging supplies.




Operate a forklift safely following safety protocols.




Maintain a safe, clean and organized workspace.




Data recording




Use paper logs, spreadsheets, and production software to record data related to all the above
General Expectations
Maintain the operational efficiency and safety of the equipment you use. Catch it before it breaks, fix it if you can, bring it to someone's attention if you can't.
Maintain cleanliness and sanitation of equipment and brewery at all times.
Work hard and efficiently to ensure Smog City beer maintains quality standards into the package.
Assist in safety compliance and QA/QC.
Learn and adhere to standard operating and safety procedures.
Stay organized and communicate effectively
Note - all staff help out wherever they are needed. The above are guidelines but additional responsibilities may, and most likely will, be required.
Minimum Physical Abilities
Must be in good physical condition and able to maneuver in confined spaces.
Must be able to walk, sit, stand, and/or crouch for extended periods of time.
Must be able & willing to work early morning, daytime, evening and/or weekend shifts.
Must be able to lift 55 lbs. (malt bag!) to shoulder level repeatedly and maneuver at least 165 lb. (full keg!) containers safely.
Necessary Skills
Excellent written and verbal communication skills.
Ability to work independently and use your time efficiently.
Insane knowledge of the brewing process and how everything you do affects the quality of the beer.
Excellent beer knowledge, a good sense of smell and taste with the ability to communicate what you are sensing.
Must be able to follow directions.
Subject line of the email must read: Six sleek swans swam swiftly southwards.
Communicate clearly and concisely with respect to all personnel at all levels, in addition to customers.
Forklift experience is a plus.
Education/Experience
A minimum of six months of professional experience at a commercial brewery or 3 years of home brewing experience.
Bachelor's degree and/or formal brewing education preferred.
How to Apply (please read carefully. Incomplete applications will not be accepted)
Send a cover letter and resume to ilovebeer@smogcitybrewing.com. The cover letter should describe why you are interested in the position and why Smog City Brewing Company should hire you.
Please provide a resume that includes all relevant work history. It should also contain your education and any formal/informal brewery training.
You must provide 3 references, one character reference, one professional reference and a third of either character or professional nature. At least one reference should be from your current/most recent place of work.
References WILL be checked.
To apply to any of our open positions, please send your resume along with a cover letter to ilovebeer@smogcitybrewing.com and be sure to include the job title & location in the subject line.